Last month I got myself into a pickle while trying to uncover the origins of that very expression.
Having heaved a vast surplus of cucumbers up onto the kitchen counter with no idea what to do with them, I eventually hit upon a solution (literally) - a mixture of vinegar and brine. I'd pickle them.
But first things first. Where did the term: "getting into a pickle" originate from?
With no immediate results apparent from Google I began scanning pages of British naval sayings. Because when they weren't scuttling spanish men o war with a shiver of their timbers, a hoist of their mitzens and so on, it's a well known fact that the British navy men would sit down together for weeks on end to concoct the most bizarre, surreal and ridiculous terms in the English language.
Those sons of guns (illegitimate offspring born under ship cannons) couldn't spit on a poop deck without banging out yet another colourful new descriptive. Cold weather meant balls freezing off their brass monkeys (metal cannonball baskets) and the discovery of wrongdoing meant the "cat (o-nine tails) being let out of the bag." If they had room to swing it that is.
Among the dippy terms brought to the language by limey salts there are "slush funds" (crew income from selling surplus ship's gruel ashore) and "booby traps" (stealth devices for catching seabirds) and the battening down of hatches (to prevent water spilling in) so surely these were the guys who first got us "into a pickle?"
Did it originate when a slain Nelson himself got into a pickle - popped into a barrel of brandy to preserve him for the Trafalgar trip home? "Getting pickled" perhaps but it didn't spark getting into one. That said, Nelson's pickling wasn't wasted for creative idiom - those caught siphoning off his pickling booze for personal consumption were put over a barrel (flogged over a cannon) for "tapping the admiral" (clandestinely stealing and consuming drink).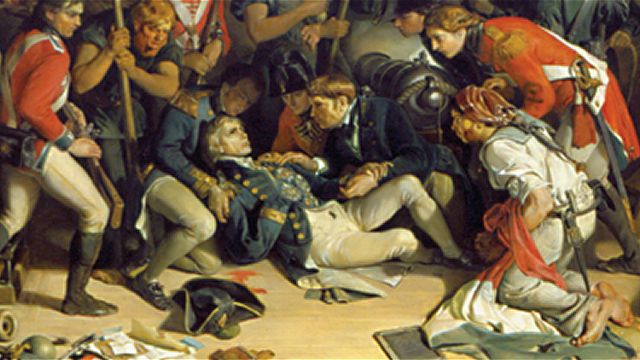 He's dying! Get a barrel of brandy quick!
After all that, "getting into a pickle" is in fact a naval term, but founded instead upon the Dutch merchant navy expression: "In De Peken Zitten" (to sit in the pickle/preserving brine). Unfortunately I can't find out how and why they got there..
Away from 18th Century salts and back to my kitchen pickliing process. This follows a three thousand year tradition among households for preserving summer food through winter and spring. While stong traditions of home pickling continue all over the world, particularly in mainland Europe, the USA and Canada, it seems to have died out here in Ireland.
Our chest freezer has been a great storer of Plot 34's surpluses, but some crops just don't freeze well. The cucumbers for example are a bad candidate for the ice box as are those fat necked onions from the allotment which are already showing signs of perishing.
The answer is to pickle them. So I've bought a load of Kilner jars in preparation for making two types of pickle.
First off is the dill pickle. The litre jars have to be boiled for ten minutes to sterilise them and I plan on removing the rubber seals and sterilising them in a baby bottle steamer to prevent damage. Bacteria is the enemy of anyone planning to get themselves into some pickles. The cucumbers will be cut into "spears," or vertical slices and jammed into the sterilised jars. I'm planning to follow the guidelines of James from the Healthy Homestead whose dill pickle making demonstation can be seen on Youtube.
The Canadian lad with the baseball cap, gingham shirt, beard and ponytail recommends a brine comprising a quart (two pints) of water, two pints of white vinegar, a half cup of coarse canning salt, three quarters of a cup of sugar, a spicebag and some onion slices. You bring this mixture to the boil and keep it simmering until it goes into the sterilised jar. A sprig of dill is placed into the jar along with a thin chunk of clean shaven horseradish. I'm told a whole clove of garlic is a good addition too.
A half inch headroom is maintained at the top but the spears must remain covered. After filling the jar, a sterilised cloth is used to wipe the rims to create a good seal. The jars are closed tight and then placed into a pot of hot boiling water for fifteen minutes (put a cloth on the inside bottom to prevent the glass cracking). You then allow them to cool before removing them (handled with a sterilised cloth) to somewhere dark and cool for storage. After six weeks you can start eating them. James recommends skinning the cucumbers or at least topping and tailing them both ends to remove enzymes that can make the mix go soft in the fermentation process.
If you'd prefer instead to get into a pickle with three suggestive and giggling young Canadian girls in shorts then search Youtube instead for "Grandma Marg's Pickles." Do not try to feed your cucumbers to a dog however.
My finished jars of cucumber, onion and tomato pickle spread
The next kind of "pickle" I'm planning to get into is more like Branston or Bicks - a pickle in the english sense - a savoury spread. I'm planning to go by the Youtube clip "Aunt Polly's Pickles" as demonstrated so defty by someone who looks like they've done it all her life - a silver topped barefoot dame in a proper apron and glasses on a string (again Canadian I'm guessing by the "aboot" accent). I'm using this recipe because it's main ingredients are cucumbers, tomatoes and onions, the three big surpluses I have hanging over me at the moment. Yellow cucumbers, which are over ripe for eating fresh, are ideal it seems for making into a pickle spread; as are the pots of perishing onions from this year's harvest and perhaps even the softening apples remaining from my miniature coronet apple tree.
Mix even quantities of diced cucumber, onion and peeled and chopped tomato until they half fill a pressure cooker/stew sized pot with a little water and two pints of white vinegar and boil for an hour. In a bowl make a sauce separately with two table spoons of salt, a quarter teaspoon of pepper, a pound of white sugar, a teaspoon of mustard, a teaspoon of tumeric and two table spoons of flour. Mix it up and then add to the main pot and boil for four minutes before filling your jars.
And that, me hearties (good fellow sailors deserving of a hearty meal), is how to have a field day (a 24 hour period laid out for cleaning a ship) turning your windfall (good luck from a rush of wind to the sails) into a square meal (the British navy ate from space saving square plates).